Why do I need a Chiropractic care?
---
Everyone can benefit from Chiropractic care. It can help you when you are in pain with a musculoskeletal problem, improve performance of an atheletic event or just a hectic work life, improve overall wellbeing or help with balance and energy levels in older age. The type of Chiropractic care and the fequency of therapy will be determined by your overal health, your habits and your goals. We must look after our body and our health much like we do after our house, car or musical insturment.
---
How does the chiropractic care and treatment work?
---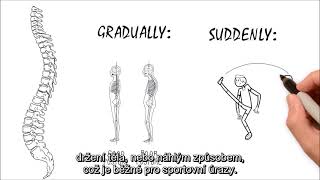 The cause of many complaints originates within the spine. When a spinal joint doesn't function properly, it may have an effect on the surrounding and involved tissues, like muscles, nerves, ligaments and organs. This can cause muscles and ligaments to tense up and often cause more pain. By restoring function of the spine; using gentle and specific adjustments and movement; the function of the spine is restored. When function is restored, joints start to ache less, muscles and ligaments relax and blood flow is increased. Chiropractic does not involve the use of any drugs or surgery and helps the body heal naturally.
---
What is the difference between chiropractic and physiotherapy?
---
Chiropractic University studies take 5-8 years full-time depending on where the studies were completed. Physiotherapists may qualified after 3 years of education but some continue in a specialization through a masters or a Phd program. Both professions are required to do yearly continued professional development training. Doctors of Chiropractic specialise in spinal and joint manipulaton which is a high-velocity and low-amplitude thrust the stimulates the mechanoreceptors nerve endings in a joint to restore better joint awarness and range of motion. It can help with episodes of acute or chronic pain and may also be referred to as a grade V mobilization. Chiropractic training focuses on orthopedics, pediatrics, rehabilitaion through exercise, internal disorders, neurology, nutrition, occupational health, radiology and sports medicine. A physiotherapist training can be similar but will depend on the specialisation. Both professions have the ability to greatly help a persons quaility of life and training will varry between individual professionals. Nowadays chiropractors and physiotherapists work together to get the best results utilizing their skills to help each case individually. Regardless of who helps you, the persone must be qualified in what they claim and not have simply done a weekend course. Always choose people who are registered with an internationally recognised associations and regulatory body. ie: (https://www.chiropractic-ecu.org)
---
How long does it take to get better?
---
Treatment plans vary for each individual and progress depends on a variety of factors. In general, the sooner you seek chiropractic care the faster you will heal. Problems can be resolved quickly, if you don't wait too long for treatment. If you have been suffering with a problem for many months or even years, improvement can take some time. A significant proportion of the pain relief and restoration of spinal function is under your control so if you stick to the treatment plan and follow our advice and lifestyle plans, you will get positive results.
---
Is it going to hurt? What is the crack I can hear when my neck is being adjusted?
---
No, chiropractic treatment does not hurt. During an adjustment a very careful, gentle and specific force is used to restore motion of the spine. We use just the right amount of force to restore motion. You might hear a "popping sound" which is merely air escaping from the joint. This popping noise is similar to the noise you hear when "cracking" your fingers, and it doesn't hurt. You are in safe hands, we have given many thousands of adjustments.

Recent research on this subject shows that a gas (in this case nitrogen), which is normally dissolved into the surrounding tissues of the spine, rushes in to fill the partial vacuum created when the joint surfaces are slightly separated. Another example of this phenomenon would be the "pop" you hear when you take the cork out of a champagne bottle. The carbon dioxide in the champagne rushes out of the bottle when the cork is removed. This phenomenon is called a cavitation. It is not always necessary to cause a "crack" or cavitation in order to gain the desired effect of an adjustment. The main aim is to increase movement at the specific segment of the spine to positively influence the surrounding tissues. In fact, some chiropractic adjustment techniques use little force and thus produce no sound.
---
What do we do different in Roots Health Clinic?
---
At Roots Health Clinic, we take a holistic approach to health by clinically and functionally identifying the drivers to a patient's complaint and the hurdles to their optimal health. Our approach combines chiropractic, orthopedics, neurology, movement functional testing, respiratory functional testing and nutrition. Once a diagnosis is made, a treatment plan is outlined and appropriate care is provided.
---
Why is it important and benefical to see Doctor of Chiropractic regulary?
---
It is important to see a Doctor of Chiropractic as prescribed for the same reasons we see a dentist or we take our car in for an inspection. Pain is merely your body telling you that there is a problem and often an individual can avoid aggrevating their problem to a point of pain. Chiropractic maintenance care dependeds on the patients needs and goals. The goal of it is to allow the patient to maintain their own health with the tools provided and following up with the Chiropractor a few times in the year.
---
How our yoga/exercise practice differs from others?
---
Despite the connection of the movement - breath - mindulness are very important elements of every yoga practice and movement in general we believe everyone should have the awareness of how to approach these aspects so the practice is safe and more enjoyable. In our sessions we give an extra attention to every client personally and focus on safe and effective breathing pattern - DNS and Buteyko method so you become fully prepared for group classes in studio or your own practice at home.
---
Am I too old for chiropractic treatment?
---
Despite common belief, getting older does not mean you have to endure aches and pains! People often disregard treatable joint and muscle problems by saying "I'm just getting old". This is often not the case, and these aches and pains of getting old may be treatable. Regardless of your age, chiropractic care can help to improve mobility and function of your body. More and more people are consulting chiropractors, especially in their later years. With growing concerns about over-medication and the side effects of combining various prescription drugs, safe, natural chiropractic care is growing in popularity. Restoring better spinal function can help improve mobility, vitality, and endurance. Many patients report improvement with arthritic symptoms and other chronic ailments often associated with the aging process. The adjusting technique used by the chiropractors at Roots Health Clinic will be modified for maximum comfort and results. Even patients with osteoporosis and other ailments can receive treatment with the right modifications.
---
Isnt´t it normal to have some pack pain?
---
No, pain in general is not normal; it is a sign that something isn't right. Pain is the signal that a limit has been reached or a problem has developed. Minor aches and pains are often shrugged off, but while they go away, the underlying problem can slowly worsen! Eventually, the problem might become more difficult to resolve.
---
How can I contribute on the improvement of my health?
---
The treatment plan we provided involves your corporation. You will achieve much better and faster results if you comply with the advice given. As soon as possible, we will give you exercises for you to do at home, again to speed up recovery and advise you on activities like walking or swimming which help to prevent future episodes of pain.

At Roots Health we sepcialize at addressing aspects of your lifestyle including diet, stress, breathing, sleep, environment factors, enough rest and mindulness.

---
How chiropractic, yoga/exersise and self-care work together?
---
It all goes hand in hand. Taking steps to look after our health with regular movement, quality sleep and nutrition are esstential to maintaining good quality of life. However, sometimes we need chiropractic care to help us to recever form an injury.
---
Is chiropractic care safe?
---
Yes, chiropractic is safe. In fact, in a study comparing a course of chiropractic care with a course of anti-inflammatory drugs, chiropractic was shown to be 250 times safer (1). As with any form of health care, there are some risks. Some people may feel slight soreness following their first few adjustments as the body begins to realign. This is usually very mild, and lasts only a short time. Then there are the very rare risks of infrequent strain/injury to a ligament or disc in the neck (less than 1 in 139,000) or the low back (1 in 62,000). There is also an extremely rare risk of stroke associated with adjustments of the neck. All studies published found the risk to be very low (3,4,5), with the most recent research published in 2001 putting such an event at one in 5.85 million adjustments (6). Despite the many benefits of medical care, there are some risks associated. Specifically, neck surgery has a three 3-4% rate of complications which in turn leads to 4,000 to 10,000 deaths per million cases (7).
---
Can Chiropractic cure stiatica?
---
Actually, chiropractic doesn't cure anything! Only your body can do that. The chiropractic approach to sciatica (and other health problems) is to help restore the way your spine works, reducing nerve irritation and revitalizing your own healing ability.
---
What should I wear?
---
All our sessions and consultations are fully clothed exept of chiropractic treatment where you might be asked to remove some of the clothing depending of the kind of treatment required.
We reccomend you to wear something comfortable whether you come for yoga class or coaching consultation.
---
What if I can not attend my booked appointment?
---
If you need to cancel your appointment please give us 24 hours notice. You can make a new booking for missed session straight away.
---
---